Any creative team can splurge out lots of ideas – but it doesn't necessarily make them right for your project.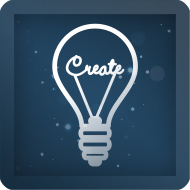 Creative design is not just about the latest trends and fads – it draws upon a wealth of experience gathered over the lifetime of the team, market insights and knowing how to get the best out of the medium – be it print, online or something more innovative!
Sure – we all love pretty pictures, but just because your designer can keep their colouring inside the lines doesn't mean that it directly appeals to your target audience and meets your business requirements. You should always be mindful of the purpose of the creative design produced for you and how it will help you achieve this. We've put together a few thoughts and tips to help you get the most out of your next project and make it as effective as possible.
Put personal tastes to one side
How well do you really know your target market? This isn't necessarily your 'ideal' customer – you know, the one that has loads of money and is in love with your product to the point of infatuation and will recommend it until the cows come home! We are maybe identifying the customer that needs a-little nudge in the right direction – the one that needs a-little persuasion to buy into your product or service. Whatever your target audience is – be it the evangelist or tough sell – make sure both you and your creative team have a good understanding of their needs, desires and expectations.
What appeals to you may not necessarily engage your customers – that's a tough fact to swallow for some clients. You really have to put yourself in the shoes of your customers – identify their desires and priorities, and ensure that your creative communication taps into this.
5 questions to ask yourself during the design process
Some key questions to ask yourself at the during the design process are:
What is the primary aim of the piece of work – and does it address this?
How does this improve the appeal of my product/service?
Does this sit well with other material that's been produced – is it recognisable as belonging to your brand?
Does this communicate effectively with my audience?
How does this work in the environment where the piece will appear?
These are not just questions for you as a client – they form an important part of our creative process at Tanc Design. We challenge every design decision we make before it's presented to the client – be it choice of colour, style of imagery or language used. Every element of what we produce can be justified by sound reasoning to guarantee it hits the mark every time and offers you the best return for your investment.
Need a new creative perspective?
Tanc offer a range of creative design services including creative design for print, large format exhibition work, brand development and a wealth of digital services including animation, 3D rendering and bespoke website development. Whatever the medium or market segment you operate in, we have the insight and experience to deliver beautiful, but more importantly effective creative design. Why not get in touch to discuss your next project, we'd be happy to help!